A traditional-style terraced house has been built inside a three-storey, sealed testing chamber at the University of Salford. In addition to its original brickwork and roof, the world's first 'Energy House', is fully furnished and fitted as a typical working home with fully functioning water, gas and electricity supplies.
The Coronation Street-style house – built in the same style as 4.5m pre-1920 UK homes – will be subject to some of the most advanced energy experiments ever conducted on a residential property.
Unique climate system
University experts will conduct a huge range of tests inside the house to gauge how its energy consumption varies depending on variable factors and conditions. The testing chamber will feature a unique climate system which will generate a range of rain, wind and solar conditions.
By studying the different ways the house consumes energy, the University will be able to devise ways to improve its efficiency. But, beyond simply testing new types of insulation, double glazing and low-energy appliances, Salford's unique cross-discipline approach to the study of energy will see the University's psychologists, health experts and sociologists working alongside designers, engineers and scientists to devise sustainable solutions.
For example, Salford is keen to explore if the use of certain colours and wall-coverings really do affect how we perceive temperature, whether smart meters showing the real-time cost of energy use in the house changes consumer behaviour and if, in the future, a games console like the Wii could be powered by physical energy generated by the user.
Salford's ground-breaking approach is a response to the sustainability challenge presented by the UK's ageing housing stock. 70% of the country's residential property will still be inhabited in 2050 and 91% of all UK homes would benefit substantially from improvements in energy efficiency. Improved insulation and boiler upgrades alone could see heating emissions reduced by 22%.
The country's least efficient properties were predominantly constructed prior to 1920. These currently make up 15% of UK homes but actually account for 23% of total notional C02 emissions. Of these dwellings, more than 2m, are the two-up, two-down terraced-style that the University will be studying closely.
New approach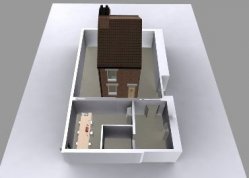 The Energy House is the centre-piece of the University's new 'Energy Hub' – a multi-disciplinary research centre drawing on the expertise of over 25 academics from 13 departments, and a centre of excellence for energy research in the UK. Its findings and facilities will be utilised by academics, students, government and business.
Professor Steve Donnelly, Dean of the Faculty of Science, Engineering & Environment, said: "We need to find ways to make these old-build properties more efficient as they will continue to house people for generations to come. But to cost-effectively retrofit old properties and make them as carbon-efficient as possible requires detailed and robust research.
"To work out how homes perform under different conditions, and the most effective ways of reducing energy consumption, requires replicating one in laboratory conditions. The unique cross-discipline nature of The Energy Hub also means that our academics, experts and specialists from a range of fields can access and interpret the data, and work together to find innovative solutions."
The Energy House project is welcomed by environmental campaigner and former director of Friends of the Earth, Tony Juniper, who attended the launch of The Energy Hub.
He said: "Domestic energy use accounts for a huge proportion of emissions. If we are to have any chance of meeting targets to cut greenhouse gas pollution from UK homes by 29% by 2020, we must focus on improving energy efficiency in all kinds of properties, including the millions of terraced houses like this one.
"The Energy House offers the opportunity to measure energy-saving measures, but it will also address behavioural change."
A great addition to Salford
Catherine Monaghan, Head of Energy Saving Trust North West said that the Energy House is: "A great addition to Salford and indeed the city region and its designation as a low carbon economic area. The Salford Energy House fits in perfectly with the aspirations of the domestic retrofit programme currently planned for Greater Manchester."
Oliver Novakovic, Director of BRE Housing Futures said: "We are very excited about this project and its implications with regard to the generation of hard data to help deliver the step change needed if the UK is to achieve its carbon emission reduction targets. It's essential decision makers have sound evidence from projects such as this one and the Victorian Terrace project at BRE's site in Watford to ensure products are tested before being tried out in real homes.
"It's through the collation of this data alongside that collected from over 500 demonstration exemplars that the National Refurbishment Centre (A EST/BRE partnership) plans to support the emerging refurbishment sector and homeowners alike in making the right decision when opting to improve the energy performance of existing homes."
The Energy House is due to be completed by February 2011. Its unveiling will also mark the opening of the UK's first ever conference, organised by University of Salford, that will focus on the national challenge to how to sustainably retrofit existing housing stock and commercial property.
Source of photo and article: Salford University.
Video: BBC